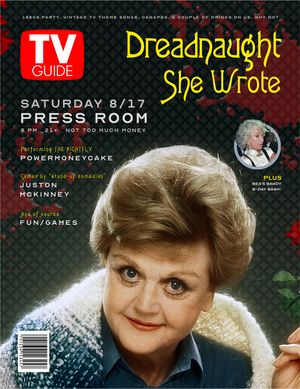 Yearning to hear a sing-a-long worth "Perfect Strangers" played live? Salivating to experience "Night Court" whilst reading a vintage copy of Pro Wrestling Illustrated? Can't help but dream of having one hand on the Atari and the other around a creme de menthe as "Magnum PI" rages in the background? 
Well, us too. Join us on Saturday August 17 at The Press Room in Portsmouth NH for DREADNAUGHT SHE WROTE, a 1980s party featuring vintage TV theme songs, canapes, and a couple of drinks on us, why the hell not. You're invited, you're all invited... to join. 
With special guest Powermoneycake performing THE NIGHTFLY by Donald Fagen in its entirety and a cameo appearance by our old pal, comedian Juston McKinney. 
Ticket purchase information to be announced soon.