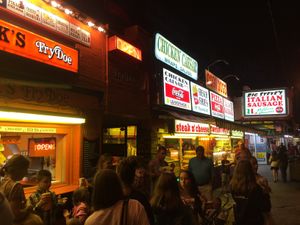 boblordmusic.bandcamp.com/album/preview-of-playland-arcade
For as long as I can remember, I've been visiting Hampton Beach on the New Hampshire seacoast.  When I was a boy we would drive up and stroll along on the shore, eat fried dough, play table hockey at the arcade, and take in the sights and sounds of what was always to my young mind a satisfyingly strange, surreal, and sensational experience. 
It's a place with a real history, in an area that has seen (or possibly seen?) everything from spaceships to witches, centuries-old massacres to mid-60s beach riots, vagrants to vacationers, and I always try to remember that I'm only witnessing it, like everything else, for a brief moment along a massive continuum.  And I always wonder what will happen next. 
Now I live here in Hampton not too far from that beach, one of the biggest and most spectacular in our region, and this past Summer has been the first in my memory when I wasn't able to visit Playland Arcade – my favorite place on the strip – to play Galaga and Centipede and complain about how I *again* got stuck with the crooked skee ball machine. 
So while I await a return to the boardwalk I'm sharing with you this preview from my upcoming album PLAYLAND ARCADE, to be released in 2021.  Bring a stack of quarters, grab this 6-pack, and enjoy the ride in the meantime.
- Bob 
-------------------------------------------------- 
Preview of PLAYLAND ARCADE
Released December 16, 2020
Full album out in 2021
All tracks composed and produced by Bob Lord  
 
1) HEY 
Bob Lord (bass, vocals, Hammond organ, percussion) 
Jamie Perkins (drums, percussion) 
Josh Corringham (hand claps) 
2) YO SOY MIGUEL 
Bob Lord (bass, vocals, keyboards, programming) 
Jamie Perkins (drums, percussion) 
Duncan Watt (Hammond organ) 
Recorded by Jon Wyman and Bob Lord 
Mixed and mastered by Jon Wyman 
3) IN FOR THE KILL 
Performed by the Moravian Philharmonic Orchestra 
Arranged by Bob Lord 
Orchestrated by Mark Saliba 
Conducted by Pavel Šnajdr 
Recording produced by Vít Mužík 
Recorded and engineered by Jan Košulič 
Mastered by Jon Wyman 
4) NIGHT SWEATS 
Bob Lord (bass, keyboards, piano, percussion, programming) 
Jamie Perkins (drums, percussion) 
Duncan Watt (synthesizer solo) 
Recorded by Jon Wyman and Bob Lord 
Mixed and mastered by Jon Wyman 
5) LOBSTER ROLL 
Performed by the Moravian Philharmonic Orchestra 
Arranged and orchestrated by Mark Saliba 
Conducted by Pavel Šnajdr 
Recording produced by Vít Mužík 
Recorded and engineered by Jan Košulič 
Mastered by Jon Wyman 
6) SIEGE 
Bob Lord (bass, keyboards, programming) 
Jamie Perkins (drums, percussion) 
Duncan Watt (Hammond organ) 
Eduardo Silveira (percussion) 
Percussion arranged and recorded by Dayron Ortega 
Recorded by Jon Wyman and Bob Lord 
Mixed and mastered by Jon Wyman 
-------------------------------------------------- 
Artwork by Edward Fleming 
Full album to be released in 2021