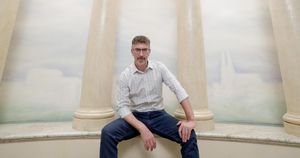 Getting the feeling that the 2020s are going to be a fun decade. Some major announcements are queued up for the coming weeks, but let's wrap up 2019 first.
Croatia's leading national newspaper Vecernji List ran a nice profile of me at the end of last year, check it out:
https://www.vecernji.hr/kultura/amerikanac-koji-je-zagrebcane-odveo-po-grammy-i-ispunjava-tude-glazbene-snove-1363209
The Chicago Tribune named one of our releases, A BISSEL RHYTHM by Paul Green on my Big Round Records label, to its year-end "Best Jazz Albums" of 2019:
https://www.chicagotribune.com/entertainment/music/howard-reich/ct-ent-best-jazz-1208-20191203-kfufl5pjerf6fjqezku2el2bky-story.html
Sonograma had some very nice things to say about the new release on my Navona Records label, HOMMAGE TO WOMEN COMPOSERS:
http://sonograma.org/suplement-de-discos/hommage-to-women-composers/
"Bob Lord, CEO of PARMA Recordings, continues to amaze us with the successful recordings that have a brand that distinguishes them: plurality and musical quality."
And the Portsmouth Herald here in seacoast New Hampshire ran an interview with me about our recent GRAMMY nominations:
https://www.seacoastonline.com/news/20191212/2-grammy-nominations-recognize-parmas-work