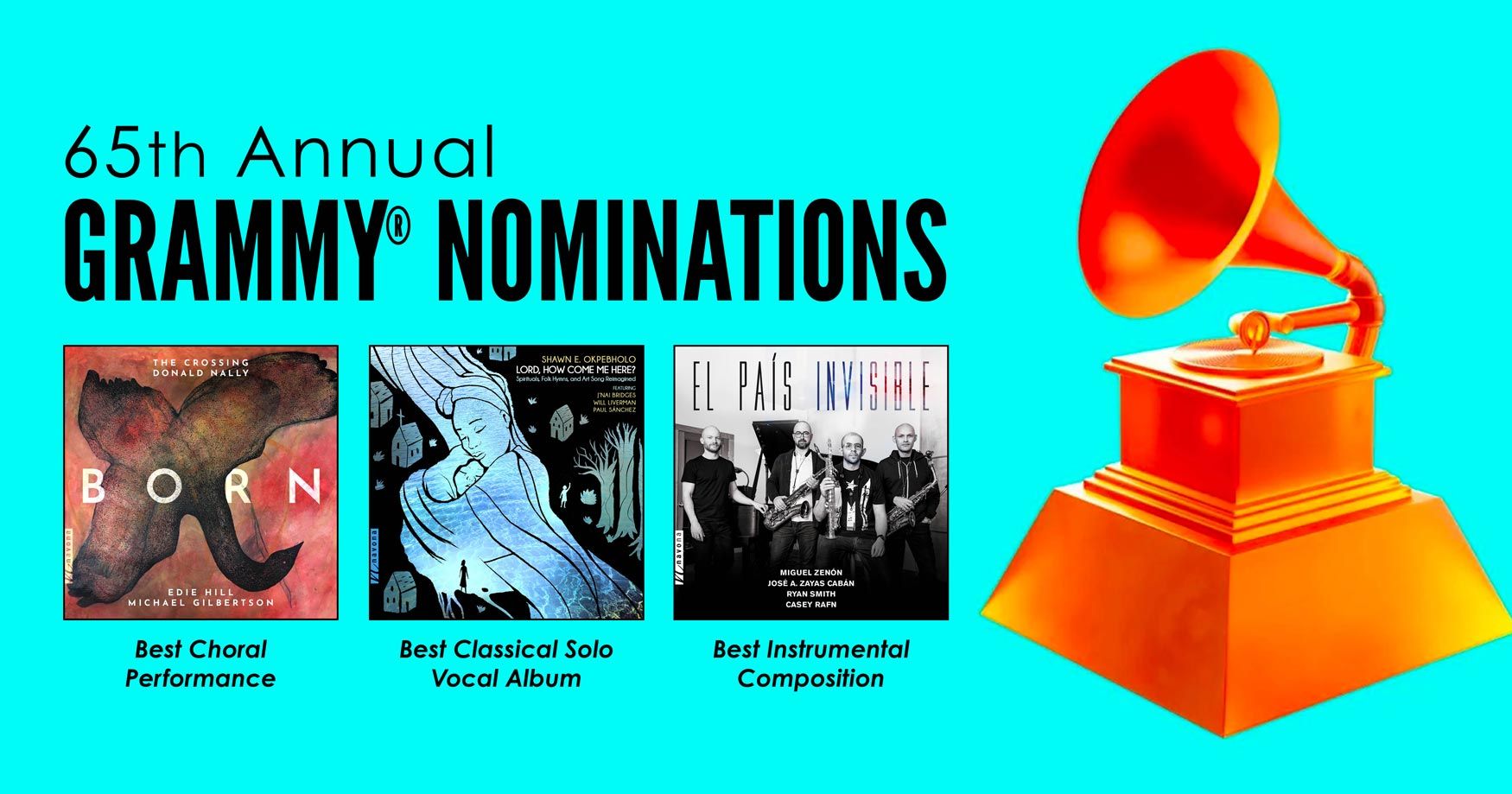 I'm proud to announce that three PARMA Recordings / Navona Records releases which for which I served as Executive Producer are in contention for GRAMMYs®:
 
Miguel Zenón – El País Invisible 
Best Instrumental Composition 
Released as a digital single in July 2022, EL PAÍS INVISIBLE is a glimpse at a full Navona Records album — by the same name — that is set for release in 2023. Composed by 10-time GRAMMY® nominee Miguel Zenón, the 12-minute track is a deeply musical interpretation of Puerto Rico's status as a nation, a culture, and an identity, brought to life by an intimate three-saxophone and one piano orchestration. 
El País Invisible "happened by accident," says Zenón, like it was "almost meant to be."
www.navonarecords.com/catalog/nv6395s1
 
The Crossing – BORN 
Best Choral Performance 
Having received two GRAMMY® Awards for Best Choral Performance (2018, 2019), The Crossing received a nomination in the same category this year for BORN: THE MUSIC OF EDIE HILL AND MICHAEL GILBERTSON. This comes as the ensemble's eighth GRAMMY® nomination, and the third Crossing album from Navona Records to receive a nomination. 
"BORN covers a lot of emotional territory and we're grateful to Edie and Michael for their raw, honest art." – The Crossing via Instagram
www.navonarecords.com/catalog/nv6449

Shawn Okpebholo – LORD HOW COME ME HERE 
Best Classical Solo Vocal Album 
A critically-acclaimed and award-winning composer whose music has been described as "devastatingly beautiful" by The Washington Post, Shawn Okpebholo received a GRAMMY® nomination for his 2022 release, LORD HOW COME ME HERE?. In contention for Best Classical Solo Vocal Album, the Navona Records release features award-winning vocalists J'Nai Bridges and Will Liverman.